I've been wanting to write a shoe review for a long time now. As my fiance can attest, I go through quite a few pairs of shoes a year, so I think I can offer some great insight for those who prefer to run in shoes in the more minimal/ lightweight categories. I would like to begin by sharing my thoughts on one of my favorite shoes I've ever worn, the New Balance RC 1600. This shoe is marketed as a lightweight road racing flat for 5k to marathon, but I have worn it beyond those prescribed limits and it has performed quite well. Below, I will try not to concentrate too much on the specifics of the shoe, but more on how the shoes perform in a variety of conditions. At the end I will provide a rating scale of the shoe on different types of surfaces and distances as I believe that shoes should be used as different tools for different situations.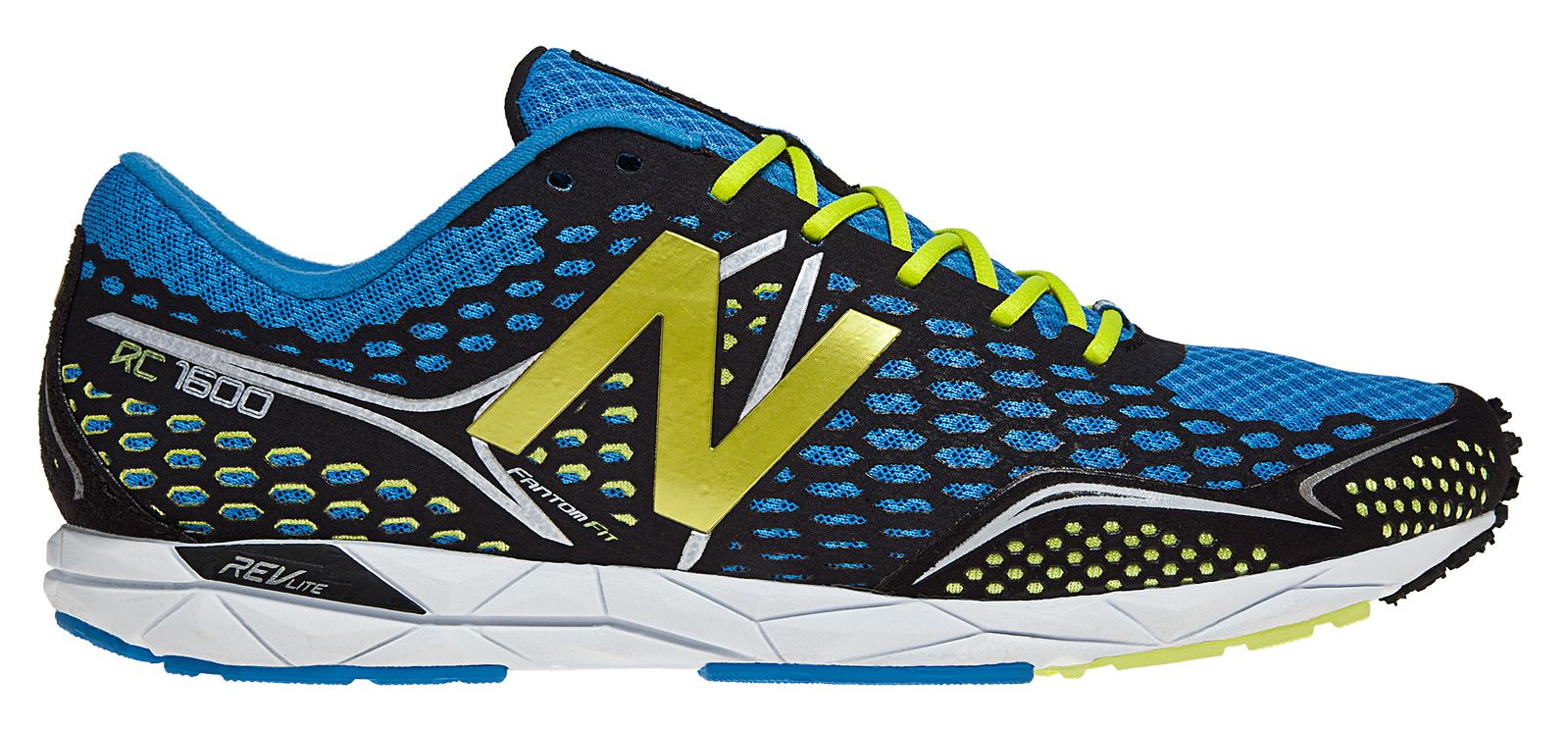 Official Specs
weight - 5.4 ounces (size 9)
drop - 6mm
Upper (9/10)
The upper of the 1600 is one of the best I've ever worn. It is mostly comprised of a dual density mesh with a system of honeycomb shaped overlays that wrap the foot on both sides and locks the shoe down onto the foot. The tongue is made of the same material. I found that the fit of the shoe was quite good for my foot as my heel is locked in, but my toes just have enough wiggle room to splay out on impact. I have logged a total of 400+ miles on my original pair and they isn't a single tear on the entire upper. What makes this really impressive is that more than half of those miles have been on trails (technical and smooth). I really like how the upper locked down the foot as well as I covered technical trails with less lateral movement issues than any other shoe I've worn. The upper also drains very well, and after stream crossings they are almost completely dry in a couple of miles. The only negative I can say about this upper is that it sorta makes my feet hot when going sockless. This problem isn't an issue when wearing socks though which is really weird. Regardless, I haven't had a single blister from these (although I rarely get blisters ever).
Midsole (8/10)
The midsole of the 1600's is comprised of New Balance's excellent REVlite foam. I really like how light this foam is and I think it nails a zone for me on firmness vs. softness, but it does have its slight drawbacks. But first the good. I feel like the foam provides just enough protection, even without a rockplate on most trails, gravel, and roads. I've logged many miles on the gravely like surfaces of South Mountains State Park in these and rarely get poked. The foam just dissipates the impact forces very evenly across the shoe. Even on extremely technical trails, I've found the shoe to provide just the right amount of protection. But all of this impact dissipation seems to come at a very slight cost. The foam is only lacking the pop that some runners look for and you can definitely tell this on the roads. It doesn't feel dead, but just needs something to make it just a bit more springy (which the foam does have in another shoe later to be reviewed). Durability of the shoe has been great, but I feel that the foam starts to break down about 20 miles into a run so I haven't done any ultras in them. This could probably be fixed with another 2mm of foam to the current stack heights (heel-21mm, toe-15mm). Breakdown of the foam over time has been solid and I could probably get another 200-300 miles out these shoes on runs 10 miles or less. Overall, I think the midsole is one of the best I've every worn.
Outsole (Road 10/10, Trail 7/10)
The outsole for this shoe is one of the greatest designs I've ever seen for a racing flat. A lightweight, but very grippy rubber compound is found only on high impact areas of the shoe at the forefoot and lateral heel. Very lightweight, and surprisingly durable, rubber nubs complete the grip near the toes and at the back of the ball of the foot. If you are planning on using these only for roads, this is all the grip you would ever need, even in wet conditions. On most racing flats or traditional road shoes, there is either an over abundance of rubber that rarely makes contact with the ground and adds a ton of weight to the shoe or not enough rubber on the shoe which makes the shoe almost useless in wet conditions. This outsole however strikes the perfect balance of those mentioned above and is perfect for roads. Now for trails, it is a different story. If you are running on gravel, buffed dry single track, or moderately technical rolling trails then the outsole is just as good as it is on the roads. But if you are running on slickrock, muddy, leafy, and steep trails (+20% grades) then it is another story. The grip just doesn't grip well enough on those types of treads and you invariably start skiing up or down the mountain instead of running (which is quite fun if the trail isn't treacherously rocky). Plus, there aren't any lugs on the tread so forget it in the mud. Durability of the outsole is pretty good as the tiny little rubber nubs are still mostly present after 400+ miles of mostly trails, but the rubber on the forefoot kinda lost its slight lug potential very early on.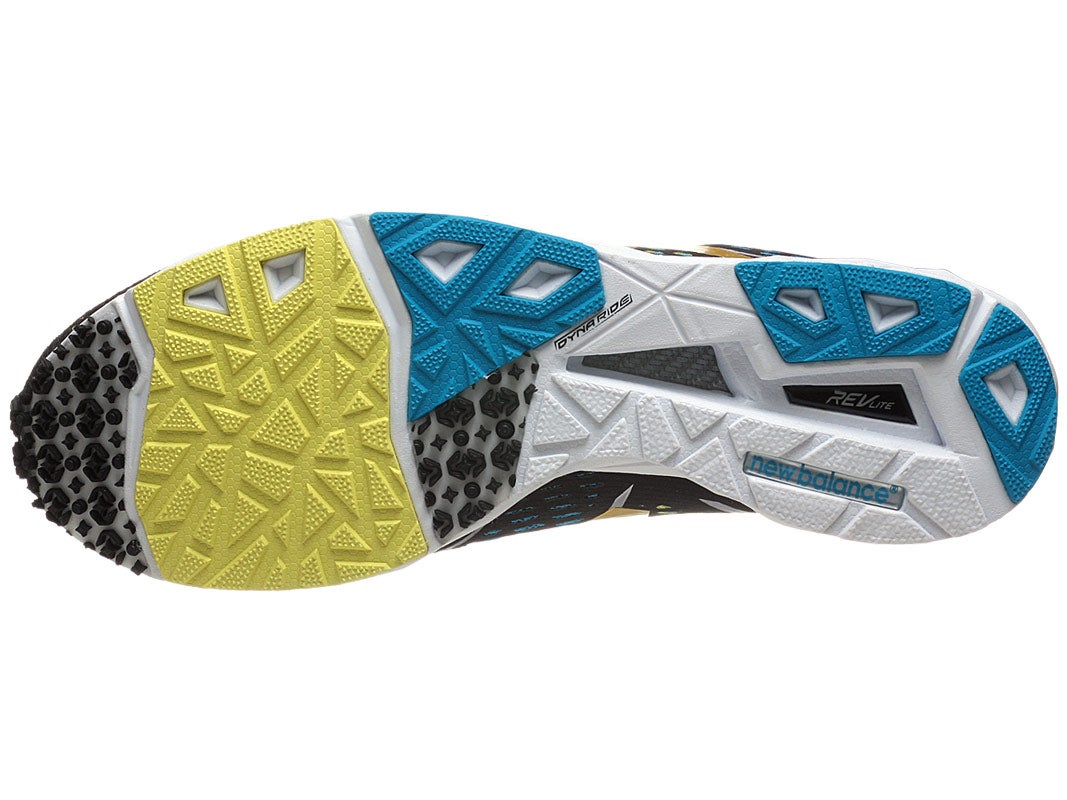 picture from Runningwarehouse.com
Overall Impression
I love this shoe and it has been my go to for everyday training and road racing for the past few months. I love it so much that I just recently purchased my second pair. The thing I love the most about this shoe is that it is super lightweight, but extremely durable, a combination rarely found. The upper is by far the best upper I've ever worn, although I can still think of improvements and the midsole strikes a great balance of firmness and softness. Although the outsole leaves something to be desired on the trail, it out performs on the roads and that was what it was designed for anyway. You can find these shoes here at
Running Warehouse
and I believe that they are on sale right now for around $70. Below is a rating scale for the shoe on different types of surfaces.
Dry Road - 9/10
Wet Road - 9/10
Gravel - 8/10
Dry Buffed Trail - 9/10
Muddy Trail - 4/10
Moderately Technical Trail - 9/10
Extremely Technical Trail - 7/10
Leafy Trail - 5/10
Steep Mountain Trails - 7/10
Grass - 6/10
5k - 9/10
10k - 9/10
13.1 - 9/10
25k - 9/10
26.2 - 8/10
26.2+ - 7/10